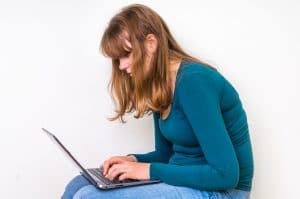 As you will learn when you meet with us for an evaluation that will help us offer you personalized headache relief, your posture may come into play. When you have poor posture, you strain certain muscles. This discomfort can radiate far and wide, having an effect on your neck muscles, your jaw joints, and more. Guess what that may cause or contribute to? If you guessed headaches, you are correct. Learn more about ways you may be making your posture not-so-wonderful to get started (and remember, we will help you sort out the details when we see you).
Texting And Typing
You know the drill! You get very into typing at your computer or you're deep into a long text exchange. Before you know it, you're quite hunched over. As you can imagine, this doesn't work wonders for your posture. Ever notice that you end up with headaches (or a worsening headache) after screen use? This may be why. Do your best to straighten up your body, limit text time, and set up an ergonomically sound work desk for some amount of headache relief (and see us soon).
Wearing The Wrong Accessories
No, we're not talking choosing an unsightly hat or the wrong bracelet. We mean choosing things like heavy backpacks, big shoulder bags, and even the wrong shoes. Such items can throw your spine out of alignment and may even cause damage over time. You may throw your head forward when you walk or adjust in other ways, which may cause strain and headaches. Want headache relief? Talk with us about your posture and other factors.
Take Posture Tips From Us For Headache Relief
See our team for the headache help you need, so you may look forward to a life with improved comfort. Schedule your visit with Healthy Smiles Family Dentistry today by calling (281) 974-4494. We serve patients from Houston, Memorial City, Bunker Hill, West Beltway, City Center, Hedwig Village, and all surrounding communities.