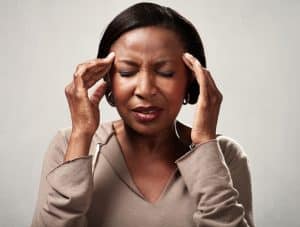 Nobody likes dealing with headaches. Even more frustrating is feeling that there must be headache relief within reach but not having any idea how to find it. For starters, we are pleased to tell you that we can help you achieve that relief if the problem is, in fact, smile related (which you may be surprised to learn is very common). Not sure how your smile could have anything to do with your chronic discomfort? Consider some possible causes and schedule a visit today!
Possible Cause: Bruxism Disorder
Bruxism is a possible cause of your headaches. Why? Well, when you grind your teeth or you clench them, you place a lot of pressure on your teeth, your jaw joints, and all the structures that support your smile. This can lead to muscle fatigue, stress, and pain that radiates all the way into the rest of your head.
Possible Cause: TMJ Disorder
Need headache relief? Your TMJ disorder may be causing your headaches. This is a disorder that includes malfunctioning jaw joints (also known as your TMJs or temporomandibular joints). They're in close proximity to your trigeminal nerve, some consequences of which may lead to headaches.
Possible Cause: Misalignment
If your teeth aren't aligned, you might not be able to close your mouth comfortably. This means you might not be able to chew comfortably or even speak without discomfort. When you contort your jaw into different positions to make it more comfortable, you strain your muscles and joints, and you might discover you need headache relief as a result.
Come In To Discover The Cause Of Your Headaches
Come in to learn more about what is causing your headaches and how to achieve the headache relief you need. Schedule your visit with Healthy Smiles Family Dentistry today by calling Healthy Smiles Family Dentistry today at (281) 974-4494. We serve patients from Houston, Memorial City, Bunker Hill, West Beltway, City Center, Hedwig Village, and all surrounding communities.