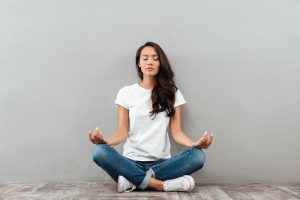 Are you getting sick and tired of dealing with headaches and you wish you could lessen their severity when they show up? We remind you that the moments you feel good are the times you should do a bit of prep work for when headaches hit. Did you know that some of your natural responses to your head pain may actually be making things worse or prolonging the problem? Today, in addition to suggesting you come in as soon as you can for a headache relief visit, our Houston, TX team offers up some slightly counterintuitive things you should consider for when headaches show up.
Try To Avoid Crying
We know that one thing you don't want when you have a headache is for it to become worse or for a mild to moderate one to suddenly including pounding or throbbing discomfort. However, it's natural to feel like crying when you're in a lot of pain. Unfortunately, when you cry (especially when you really let it out), you may be encouraging the headache to feel worse and to throb. Instead, though it can be a challenge, we encourage you to do your best to relax your body and to relax your thoughts. Try meditating. It will help ease your pain, offering some amount of headache relief, rather than worsening it.
Avoid Saying, "I'll Figure This Out Later"
We know that once you experience a headache and it's beginning to go away, you want to forget about it. You hope you won't get another one. However, rather than blocking the experience until it happens again, we suggest using that discomfort as motivation to contact us ASAP!
Stop Emotionally Beating Yourself Up
Our team offers you the strong reminder that if you are emotionally beating yourself up every time you experience a headache, you should stop. It is very easy to pick something out that you have done throughout the day, to place blame on it, and to then decide that it's the cause of your pain. Remember that while you can contribute to the problem, it's very likely that something for which you require professional care (such as TMJ disorder) is the reason you are experiencing pain. Instead, take it easy and follow through on contacting us to discuss headache relief.
Receive Excellent Headache Relief With Us
Come on in for new information and a direct approach to headache relief that will include a complete evaluation and thorough diagnosis, as well as a personalized care plan for your headache needs. Schedule your visit with Healthy Smiles Family Dentistry today by calling (281) 974-4494. We serve patients from Houston, Memorial City, Bunker Hill, West Beltway, City Center, Hedwig Village, and all surrounding communities.