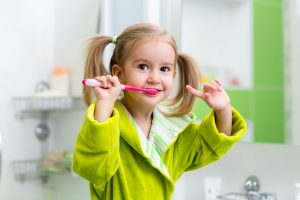 When you bring your kiddos in to see our Houston, TX team for pediatric dental care, you know that you're checking a task off of your list that is "essential." However, if you haven't really sat down and spent much time thinking over the truly deep significance that comes with placing focus on your child's oral health with both care at home and the visits you're maintaining, then we'd like to highlight some details! As you recognize why scheduling care for your child is so important, you just might feel even better about the job you've been doing and the effort you put forth!
Teaching Kids Good Habits Early
We remind you that your little kids aren't going to know how to brush and floss their teeth until you show them. They aren't going to recognize the significance of professional dental care unless they experience it. If they do have exposure to all of these details, then they are going to adopt them as a natural part of life at a young age. The result? Brushing, flossing, and seeing the dentist will all turn into habit, which will stay with your kiddo into adulthood and for life! Pediatric dental care, of course, promotes a smile that stays safe for life.
Guiding The Development of Your Child's Smile
When you are coming to us for help with your adult smile, it's already fully grown and developed. If you have issues, we can help you with them by addressing problems that already exist. One of the wonderful things about pediatric dental care is that we can actually prevent problems from developing in the first place by monitoring your kids' grins, watching growth, and intervening along the way if necessary. The result? Your child ends up with an easy-to-care-for, healthy smile in adulthood for a life of ease and good oral health.
About Those Potential Problems
Perhaps your child has a tendency to miss certain areas of teeth while brushing (such as the chewing surfaces of molars, which even adults can struggle with cleansing thoroughly). If so we can prevent decay from ever occurring by placing sealants! Maybe your child has issues with alignment and TMJ problems might become a problem down the line. We can refer you to a trusted orthodontist and you can address such concerns early, so TMJ disorder and associated issues never have the chance to occur. You see where we're headed here? With comprehensive care in childhood, the future looks bright!
Bring Kids In For Pediatric Dental Care
Don't overlook the overwhelming significance of providing your children with complete pediatric dental care when they are young. The results include a lifetime of optimal oral health and good habits. Schedule your visit with Healthy Smiles Family Dentistry today by calling (281) 974-4494. We serve patients from Houston, Memorial City, Bunker Hill, West Beltway, City Center, Hedwig Village, and all surrounding communities.