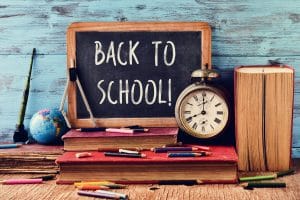 Welcome to the tail end of summer! It's a time when you look back and wonder what happened to a vacation you are so sure just got started. It's also a time that's much less relaxed than those first days because you've got so many details to tend to! When it comes to your children's dental care, fortunately, you don't have to find yourself feeling frantic or overwhelmed. As they gear up to enter into a new year full of classes, friends, and fun, ensuring their teeth and gums are ready is actually quite easy. Bring them on in to our Houston, TX dental practice and we'll be sure to get their smiles prepped for this exciting new beginning!
Bring In Kiddos Of All Ages!
Just who are you helping prep for the new school year this year? Is it your very little one? Your teenager? Your tween? Whoever it is, remember: We offer comprehensive pediatric dental care for kiddos of all ages. Set up a dental visit for your kids, two and older, and we'll make sure they're ready. How, you wonder? Well, we offer comfortable, relaxing dental exams (including digital X-rays) and cleanings. As a result, we can get kids' teeth super clean, so they're free of tartar buildup. We can also let you know if there are any issues requiring restorative care (like cavities) or if your child is good to go!
Remember, A Healthy Smile Is A Comfortable Smile
Remember that when it comes to dental care, we encourage you to take care of the details before school starts (or as soon as you can) for your kids because a smile that's healthy is a smile that's comfortable. If we happen to detect a cavity or something that requires treatment, do your child a favor! Come in soon for the required restoration. Your child can then focus on everything else (without having to deal with oral discomfort).
Let's Go The Extra Mile For A Nice School Year
We offer dental sealants for your kids and we offer fluoride, too. Remember that your kids need dental care that goes the extra mile when compared to your care because their smiles aren't done growing yet. Make the process an easy one by considering additional pediatric prevention.
Get Your Kids Prepared For School With A Dental Visit
Take the time for a visit with us, so your children's smiles are healthy and ready for a brand new school year. Schedule your visit with Healthy Smiles Family Dentistry today by calling (281) 974-4494. We serve patients from Houston, Memorial City, Bunker Hill, West Beltway, City Center, Hedwig Village, and all surrounding communities.