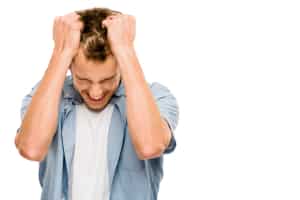 You may be aware that stress can affect your whole body in a negative way, but did you know that there is a significant connection between stress and oral health? Not only can stress cause you to neglect your oral hygiene, it can also lead to serious and painful complications when not dealt with properly. Stress tends to promote the buildup of anxiety and tension, causing you to clench or grind your teeth, which can cause chronic muscle pain. By learning how to properly manage your stress, you will be able to maintain better oral and physical health.
Take The Quiz!
1. Stress can cause which oral health problems?
a. Bruxism (grinding your teeth)
b. Headaches (TMJ disorder)
c. Tooth damage
2. How should you deal with stress?
a. Find time to relax
b. Get a massage
c. Talk to your doctor/dentist
3. What body systems does stress affect?
a. Oral
b. Mental
c. Gastrointestinal
Answers:
1. Stress can cause bruxism, TMJ disorders, tooth damage, and more. If stress prevents you from maintaining proper oral hygiene, you may even be at risk for gum disease, canker sores, and tooth loss. When you are feeling stressed, take the time to focus on your oral health to prevent problems from arising in the future.
2. Stress can be handled in a number of ways, and everyone does so differently. Try not to focus on things you cannot change, and you may find yourself feeling a bit lighter. Eat well balanced meals and get plenty of rest and exercise to combat some of your stressors. When stress lingers and begins to cause health concerns, you should speak with your doctor or dentist about a treatment plan.
3. Every single part of your body is affected by stress. Do your best to eliminate what is causing your stress to maintain better overall health and well being.
ABOUT YOUR HOUSTON DENTIST:
At Healthy Smiles Family Dentistry in Houston, TX, Dr. Amy Vlachakis (pronounced Vla-ha-kiss) and her dedicated staff strive to make everyone feel like family, while providing top-notch general, cosmetic, and family dentistry services to patients of all ages. To learn more, or to schedule a consultation, call our office today at (281) 974-4494. Located in Memorial City Plaza, we proudly serve patients throughout Houston, Memorial City, Bunker Hill, West Beltway, City Center, Hedwig Village, and all surrounding communities.