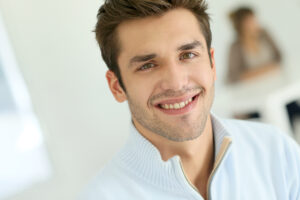 How often do you decide to withhold your smile during a photo or keep your teeth hidden in a social environment? These are actions people can take when they feel self-conscious about stained tooth enamel. Unfortunately, this kind of discoloration can be tough to avoid. Even after making changes to limit your exposure to new stains, you remain stuck with the embarrassing issue of discoloration. By taking your concerns to your Houston, TX dentist, you can find out about an effective form of care that can help you raise your confidence in the way you look! Through either a take-home or in-office teeth whitening treatment, you can deal with this problem and start showing off stunning cosmetic improvements!
A Dull Smile Can Take Away Your Confidence
Once you see a change in the color of your smile, it can be difficult to avoid letting the problem shake your confidence. After all, people often associate dull and discolored teeth with age, poor health, and poor hygiene. What you should know is that even if you are keeping up with a dental hygiene routine that protects you from cavities, you can experience a steady buildup of stains from different foods and drinks that hurt the way you look. As they continue to gather, it can become hard for you to fight feelings of embarrassment! Bringing this up with your dentist can help you see meaningful results and improve your confidence in your overall appearance.
Arranging Your Preferred Teeth Whitening Treatment
Our practice provides both in-office teeth whitening services and whitening kits that patients can take home with them. With either choice, you commit to something that can make your smile significantly brighter by fighting even those tough stains that store bought products can fail to address. Take-home kits give you more control over your treatments, as you are free to apply the whitening agents at your convenience. Custom-made trays help make the applications easier for patients to perform without assistance. The benefit to a professional treatment in the office is that you can have the results that you desire in just one visit!
Dealing With Discoloration Caused By Something Other Than Enamel Stains
There are times when discoloration needs to be tackled with a different solution. This is because the problem can be traced back to issues within the tooth structure rather than external stains. You still have options for treatment that you can discuss with your dentist in this situation! Porcelain veneers can hide these blemishes; they can also correct problems you have with teeth that are misshapen, damaged, poorly spaced, or flawed in other ways.
Talk To Your Houston, TX Dentist If You Want To Show Off A Whiter Smile!
For more information on how our practice can help you show off a whiter smile, contact your Houston, TX, dentist, Dr. Vlachakis, by calling 281-974-4494.