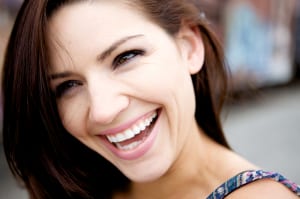 You may have found by doing a bit of research that all options for brightening your smile are not alike. If you feel ready to improve the appearance of your teeth by addressing staining or discoloration, you are in luck. We offer a variety of teeth whitening systems to whiten your smile for a dazzling finish. However, you may be wondering which system is right for you and how you will make your decision. We encourage you to look over the following explanations for a better understanding of what we have to offer and which option may work best for your unique needs.
At-Home Whitening
You may choose to whiten your teeth in the comfort of your own home. We will provide you with custom-fitted bleaching trays and bleaching gel. You will administer the gel every day, wearing the trays for approximately 30 minutes for a total treatment course lasting about two weeks. We typically recommend this option if you are looking for a budget-friendly solution, can keep up with daily whitening, and require mild to moderate improvement.
In-Office Whitening
If you prefer to visit us for a single visit, we will whiten your teeth within approximately one hour. We will protect your gum tissue and apply whitening gel to your teeth. When the hour is up, we will remove the gel, revealing a smile that typically achieves a brighter appearance by up to eight shades. This is a wonderful solution for patients who would rather we administer the treatment than trying to do it on their own at home, individuals who want to make sure they have substantial gum protection, patients with sensitive teeth, or patients pressed for time who need immediate results.
KöR Deep Bleaching
This treatment combines an in-office teeth whitening treatment followed by at-home whitening for incredible brightening of up to 16 shades. This is ideal for patients who suffer from surface stains as well as hard-to-treat deep stains called "intrinsic" stains. This is appropriate for patients looking for permanent results, a dramatic transformation, and even those with teeth sensitivity.
ABOUT YOUR HOUSTON DENTIST:
At Healthy Smiles Family Dentistry in Houston, TX, Dr. Amy Vlachakis (pronounced Vla-ha-kiss) and her dedicated staff strive to make everyone feel like family, while providing top-notch general, cosmetic, and family dentistry services to patients of all ages. To learn more, or to schedule a consultation, call our Houston dentist office today at (281) 974-4494. Located in Memorial City Plaza, we proudly serve patients throughout Houston, Memorial City, Bunker Hill, West Beltway, City Center, Hedwig Village, and all surrounding communities.