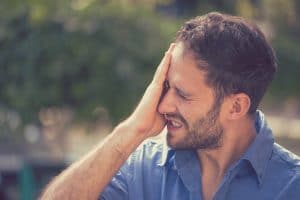 Are you getting what you're thinking of as summertime headaches? Have you always gotten headaches but you don't think that you've ever had them quite to this degree? Is this a new problem for you? Whatever the case, if you're noticing a problem that's becoming a trend, rather than something that's completely gone away, we think you'll benefit from a visit with us. We offer headache relief and can help you get to the bottom of the discomfort you've been experiencing!
You Might Be Dehydrated
Remember that part of your preventive care means keeping your mouth moist. This means that you need to drink enough water! Did you know that without enough hydration, your body becomes dehydrated, which can lead to a long list of symptoms that affect your oral health and your overall health? It's true. When you don't drink the suggested 64 or so ounces of water you need every day, you end up with issues like headaches, dry mouth, and more. So, drink more water and see if it offers some relief.
You Might Be Confusing Your Symptoms
Yes, it's possible that you need to drink more water and that it has something to do with your pain. However, remember that headaches as a symptom can point to so many things! What is it about the summer that might be causing this pain? Or, did you just happen to start getting chronic headaches during this season and you're assuming it has something to do with the time of year? The best thing you can do in order to determine whether you need our headache relief is to take a little time to visit with us.
What Might Be Happening?
Sure, seasonal issues can come into play if you find yourself in need of headache relief. However, once you've increased your water intake and addressed any allergens, you may find that you're dealing with one or more of the following that can impact you on an everyday basis:
Bruxism
Posture issues
Old or damaged dental work
More!
Choose Headache Relief Right Now!
Don't wait any longer if this summer has been plagued with headaches. Instead, see us soon for an evaluation and headache relief! Schedule your visit with Healthy Smiles Family Dentistry today by calling (281) 974-4494. We serve patients from Houston, Memorial City, Bunker Hill, West Beltway, City Center, Hedwig Village, and all surrounding communities.