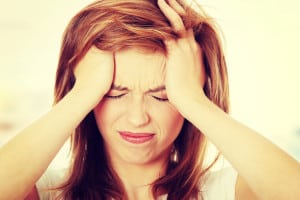 Do you suffer from daily headaches and assume you must be doing something wrong? Or, perhaps you are quite sure you are doing everything right but no matter what you do, you still seem to suffer from pain or discomfort on a pretty regular basis. One of the places patients often fail to look for answers is at the dentist. We are here to tell you, however, that we may have answers and treatments to address your frustration, while guiding you toward an improved quality of life. A significant part of understanding how we can help is becoming more familiar with the causes of headaches from our perspective. Consider the following and schedule an appointment right away if you identify with the information:
What You Think Is Happening
Patients often think they are doing something wrong on a daily basis. Some assume they need to change their diet, they must be sleeping poorly, or that they need to just lighten up and try to relax. Others assume there is a permanent underlying condition caused by a neurological problem. The truth is – these patients may be right. Headaches occur as a result of so many factors. However, we encourage you to consider the wide variety of ways dental problems may be contributing to your problem before you jump to any extreme conclusions. Fortunately, you may even find that one of our many treatment solutions can have a lasting affect on your daily comfort.
How Your Oral Health May Contribute
Visualize your entire head – your oral cavity takes up a sizable portion and is supported by soft tissue, bone, muscles, and nerves. When one part of this unit functions poorly or falls under stress, the pain or discomfort may radiate to surrounding areas – such as your head, neck, jaws, and shoulders – leading to headaches. The following includes potential causes that may be contributing to your chronic pain:
Teeth grinding, also called bruxism
A poorly aligned bite – also called misalignment
Tooth loss
Daily stress, which often results in tense jaw joints
TMJ disorder – or the poor functioning of your jaw joints
Dental restorations like fillings or crowns that do not fit well or that have become damaged
ABOUT YOUR HOUSTON DENTIST

:
At Healthy Smiles Family Dentistry in Houston, TX, Dr. Amy Vlachakis (pronounced Vla-ha-kiss) and her dedicated staff strive to make everyone feel like family, while providing top-notch general, cosmetic, and family dentistry services to patients of all ages. To learn more, or to schedule a consultation, call our Houston dentist office today at (281) 974-4494. Located in Memorial City Plaza, we proudly serve patients throughout Houston, Memorial City, Bunker Hill, West Beltway, City Center, Hedwig Village, and all surrounding communities.