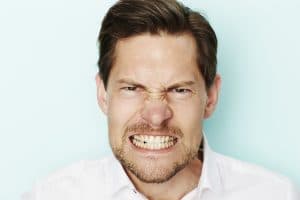 You may be putting your teeth under serious pressure while you sleep. You should be concerned about the effects of bruxism if you often wake up with painful or sensitive teeth. Tenderness in your face and jaw can also be a sign of this problem, which causes someone to clench their jaw throughout the night. Your Houston, TX dentist can provide you with an appliance to stop bruxism from damaging your smile. If left untreated, this issue can cause or worsen your TMJ dysfunction, and it can lead to dental damage that will require restorative dental work to treat.
Protecting Yourself From The Effects Of Nightly Teeth Grinding
A special, custom-made appliance can keep your teeth safe against your tendency to grind them while you sleep. Your dentist can make sure your insert is the right fit for you, so that it remains comfortably in place. With your mouth guard, you can stop yourself from chipping or cracking your teeth by grinding them. You can also alleviate the pressure this action can put on your jaw joints.
Is Your Issue With Bruxism Connected To TMJ Dysfunction?
TMJ dysfunction is regularly linked to bruxism. Other signs that you might be affected by TMJ dysfunction include regular headaches, difficult jaw movements, and aches and pains that can occur in your face and neck. Your dentist can offer several strategies for combating this issue – after reviewing your case, the right approach to improving your well-being can be determined.
Repairing Dental Damage Suffered While Grinding Your Teeth
Not everyone receives treatment for bruxism in time to avoid some damage to their teeth. The unfortunately reality is that people sometimes hope the matter will go away on its own, only to experience more significant pain from a chipped or cracked tooth. Your dentist is ready to provide a restoration for any tooth harmed as a consequence of bruxism. A modern dental crown can be placed on your tooth without disrupting your smile, as it can be made with porcelain or zirconia. In the event that your tooth's health is in jeopardy because of damage, you may need to undergo a root canal treatment.
Healthy Smiles Family Dentistry Can Help You Address Problems Caused By Bruxism
Bruxism can make every morning less pleasant. Unfortunately, if it is not stopped in time, it can also create serious problems for your smile, and your oral health! Healthy Smiles Family Dentistry is prepared to help you take on this frustrating issue. We can provide treatment to directly address teeth grinding, and talk to you about doing work to address your issues with TMJ dysfunction, and chronic headaches. To learn more, or to schedule a consultation, call our dental office in Houston, TX, today at (281) 974-4494.