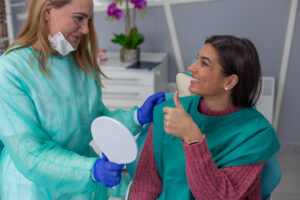 How can you make sure that your tooth's health and appearance are both fully restored after cavity treatment? Proper care for dental decay calls for more than just the removal of bacteria and damaged tissues. Even a small cavity does permanent damage, so you will need to have a restoration put in place to provide protection. At our Houston, TX dental practice, we can provide that care with either a dental filling or a dental crown. The approach we take depends on what state your tooth is in at the time of treatment. Fillings are a more conservative option that preserves more of your enamel. However, if the damage to your structure is significant enough, we can use a crown to make sure it stays protected.
Cavities Permanently Damage Your Tooth Structure
Unfortunately, there is no way to stop a cavity from damaging your tooth structure once it forms. This is part of why preventive dentistry is so important; the better you are at caring for your smile, the less likely you are to have this kind of permanent damage to address. After trouble with decay is identified, we can make sure that you have the support you need, either by providing a dental filling or a dental crown.
Using Fillings And Crowns In Cavity Treatment
The severity of your cavity will affect how we treat it. If the problem is identified in time, we can provide a custom dental filling that covers the affected area but leaves your surrounding tooth structure alone. While this is often an effective treatment approach, there are times when it cannot be recommended, as you can simply have too much damage to your enamel. In a situation like this, we will instead use a dental crown. While this provides more protection, your restoration will need to take up more space and make the removal of more of your enamel necessary. The good news is that in both scenarios, we can provide a restoration that preserves your smile.
We Also Help With Cavity Prevention
Remember that our practice is also here to help you prevent the formation of cavities. Every time you book and attend a routine dental exam, you receive a thorough cleaning of your teeth that will remove harmful plaque and tartar. Having protection against the accumulation of this material will help you avoid trouble with the development of decay.
Talk To Your Houston, TX Dentist About Scheduling Cavity Treatment
Through treatment to fully restore your oral health and smile, our practice can make sure you have no lingering issues after a cavity treatment. If you have questions about restorative treatment, or if there is any other matter that concerns your smile we can address, reach out to your Houston, TX, dentist, Dr. Vlachakis, by calling 281-974-4494.