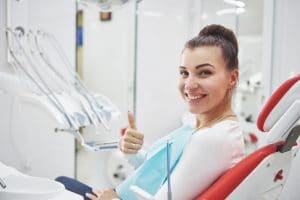 People tend to be fully aware that a cavity is a serious problem, and that treatment from their dentist will have to take place to put an end to the matter. With that said, people sometimes fail to realize just how harmful decay can be, and how their tooth can continue to experience harm until they seek care. Your Houston, TX dental practice is ready to fully tend to your needs if you have a problem with tooth decay. The threat of a spreading cavity will be addressed by removing damaged dental tissues, then your tooth will be supported with the appropriate restoration. If you want to avoid problems with cavities that have time to grow serious, make sure you are scheduling regular dental exams!
Tooth Decay Issues Grow More Serious Over Time
As a cavity initially forms, it will attack your enamel, and continue to erode this material. Hopefully, your cavity will be treated before it moves beyond your enamel. If it is not, you can experience the uncomfortable symptoms that accompany a tooth infection when decay exposes your pulp to bacteria. This progression changes what your dentist has to do to take care of your tooth. Small cavities can be restored with dental fillings, but infections call for treatment via a root canal procedure.
Finding The Right Way To Take Care Of A Cavity
After surveying your tooth and determining what needs to be done to protect it, your dentist will arrange the appropriate restorative procedure. The infection must be fully removed to stop the spread of decay, so a careful study of the tooth is important. Once the damaged material is removed, plans to restore your tooth are arranged. If you need more support for your tooth than a filling should be trusted to provide, a dental crown can be used.
What To Expect After You Receive A Restoration
What will a restoration do to your tooth? A modern filling or crown can improve its appearance, so there is not a concern that your smile will be negatively altered by treatment. The lifelike substances used to create these restorations is durable enough to protect your tooth, so you will not have to change the way you bite and chew after you have work completed.
Healthy Smiles Family Dentistry Can Make Sure Your Cavity Is Fully Treated
Are you concerned with a cavity? Healthy Smiles Family Dentistry in Houston, TX is prepared to help you fully deal with the problem! Our practice will meet with you, determine what sort of treatment you need, and make sure the matter is completely addressed. We also help with a range of oral health issues, and we can help you deal with problems that can cause chronic headaches. If you wish to schedule a consultation, call our dental office in Houston, TX, today at (281) 974-4494.