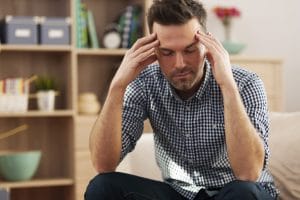 What do you normally do when you start to feel a headache? For people who suffer this issue infrequently, the answer to their problem can be to simply reach for their aspirin, and hope the problem resides shortly. If you have frequent problems with headaches, or especially painful migraines, the idea of continually reaching for pain relievers and hoping for the best can become frustrating. Your Houston, TX dentist's office understands that life with chronic headaches can be difficult, and quite frustrating. We can use TruDenta to thoroughly examine you, and determine why you are having this issue. Because headaches are often linked to dental problems like TMJ dysfunction, we can also work with you to improve your quality of life.
Struggling With Chronic Headaches? TruDenta Can Help You Find The Cause
With TruDenta, the reason for your chronic headaches can be identified. This system relies on multiple tests and examinations to understand why you are experiencing so many problems. The review can include a review of your bite function, muscle palpations, and more non-invasive forms of study. When troubles are identified, you can receive dedicated care to help you avoid issues that trigger pain to start.
Working With You To Provide Headache Relief
Once your problems with your headaches are found, your dentist can start talking with you about changes you can make to address the matter. Your personalized treatment may involve the use of a mouth guard, physical therapy sessions, or dental work to improve your bite. The goal is to provide lasting relief without requiring surgery, so that you have a less intrusive means of finally putting an end to your headache troubles.
The Link Between Oral Health And Headaches
Untreated issues with your oral health can lead to problems like recurring headaches. You may not realize it, but problems like TMJ dysfunction, poor dental alignment, and even weak or damaged teeth can lead to your ongoing discomfort. If you want to prevent future issues, or if you just want to make sure you are staying on top of your oral health needs, make sure you schedule regular dental exams. During these visits, your dentist can identify possible problems before they have time to worsen.
Talk To Healthy Smiles Family Dentistry About TruDenta
Are you tired of trying to live your life around chronic headaches? If you are, you could benefit from asking Healthy Smiles Family Dentistry about TruDenta! Our practice is committed to helping people with chronic headaches understand their problem, and find meaningful improvements. We are also ready to help you take on other oral health issues that interfere with your quality of life.  To learn more, or to schedule a consultation, call our dental office in Houston, TX, today at (281) 974-4494.