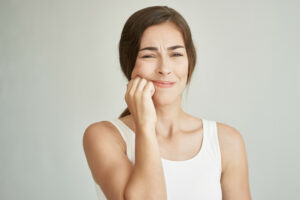 Typically, you can limit your dental office visits to two per year. Semiannual dental exams can help you by both keeping you informed about your oral health and offering timely care when there are signs of trouble. With that said, these may not be all that you require from your dentist in a given year. You may find that the onset of a potential oral health issue calls for you to make time to see your Houston, TX dentist as soon as possible. The good news is that we do offer emergency dental appointments. As a result, we can ensure that you have access to timely support so that we can promptly address trouble and prevent further complications.
What Does It Take To Treat A Dental Emergency?
The type of care you require during a dental emergency will depend on what brings you to our office. In some cases, we may be able to respond to an urgent problem with tooth trauma by providing conservative cosmetic dental work. At other times, it can take the placement of a dental crown to keep a tooth safe and secure, or it may even end with arrangements to replace a tooth that cannot be saved. Our goal is to find the most conservative care that we can recommend in order to preserve as much of your healthy enamel as possible.
Arranging Care On Short Notice
As soon as you can, reach out and let our office know to expect you. If your tooth is insecure or completely out of socket, be careful when handling it. You can try to gently guide a loosened tooth back into its socket with your tongue, but do not attempt to force it. For a tooth that is fully out of its socket, only handle the crown, be careful not to remove organic tissue, and consider using a small container of milk to keep it from dehydrating. We can prepare for your arrival when you let us know to expect you so that we can begin your treatment as soon as possible after you reach us.
How Regular Appointments Help You Stay Healthy
Regular dental visits can help you maintain strong and healthy teeth that are safe against problems that can turn severe. While preventive services may not make you lucky enough to never worry about a possible dental injury, they do lower your risk for letting a cavity go untreated until it becomes severe and uncomfortable.
Talk To Your Houston, TX Dentist About Our Emergency Services
Through our emergency dental services, we can provide access to important care on short notice, which can shorten the time you spend in pain and help you avoid potential oral health complications. If you would like to find out more, contact your Houston, TX, dentist, Dr. Vlachakis, by calling 281-974-4494.