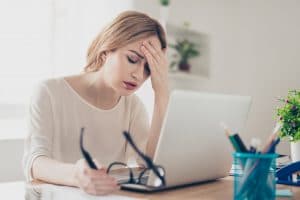 Do you wear glasses? Has it been quite a long time since you got a new prescription (or have you just felt like your Rx was off since you received it)? Perhaps you have never worn glasses but your vision lets you know that were you to actually go see an eye doctor and get a pair, you'd be in such better shape! Whether you're leaning forward a lot, squinting, or contorting yourself in some other way, you may be overlooking the fact that this can contribute to headaches! Let's talk about this detail, how your jaw comes into play, and why you should really be coming in to see our Houston, TX practice soon for a headache relief visit!
Let's Start With Your Vision
If you can't see what you're looking at, whether it's far away or up close, you're probably doing one or more of several things. For instance, if you're sitting at a computer every day trying to read but the words are fuzzy, you're probably leaning forward so you can see better. If you're having issues with distance, you may be squinting and clenching your teeth together as you feel frustrated. In most scenarios, you're stressing your neck and jaw, which can lead to a definite need for headache relief.
What's Your Jaw Got To Do With It?
Okay, you think, so my jaw is a little tired, what's that got to do with my headaches? Your jaw health can actually be a huge factor if you're someone in need of headache relief. Remember that you've got a vast system of nerves throughout your cranium, which are connected to your jaw. When your jaw is tired or strained, the discomfort doesn't necessarily stay right where it begins. Instead, it travels outward, radiating and leading to you finding yourself in serious need of headache relief.
How To Proceed
Ready for headache relief with our team? Good. Here's what we suggest: If you need new glasses (or your first pair), go ahead and get that done! In addition, come on in to see our team, so we may work with you to check in on your jaw joints, other oral tissues and concerns, and to ensure you enjoy the relief you seek.
Sort Out Your Headache Concerns With Our Care
When you come in for headache relief, you receive comprehensive care that gets to the root of your problem (and a solution). Schedule your visit with Healthy Smiles Family Dentistry today by calling (281) 974-4494. We serve patients from Houston, Memorial City, Bunker Hill, West Beltway, City Center, Hedwig Village, and all surrounding communities.