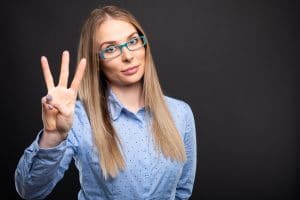 It seems safe to assume that, given the choice, you would prefer to have no issues with dental pain. Discomfort can be unpleasant, especially when the problem can be made worse by activities as routine as biting, chewing, or even speaking. Fortunately, when you have an issue with discomfort, your Houston, TX dentist is ready to help you. Once your problem is identified, treatment can lead to important relief. The general dental care you receive can prevent a situation from worsening, while also letting you return to your happier, pain-free daily life!
1. An Untreated Cavity Can Cause A Tooth To Be Painful Or Sensitive
If you are experiencing troubles with a tooth that is sensitive to temperature extremes or sweets, those sensations could be symptoms of a cavity. Your dentist can study the tooth to see what level of decay might be present, and what should be done. If the problem is serious enough to cause persistent discomfort, you may need a root canal treatment. Once a tooth is properly treated, your dentist can supply you with a durable restoration. Larger cavities can require a dental crown.
2. A Teeth Grinding Habit Can Leave You Feeling Sore
If you are waking up with pain in your teeth and jaw joints, your symptoms can point to bruxism, or recurring teeth grinding. It is important that you bring this issue to the attention of your dentist. The longer you spend with an unchecked teeth grinding habit, the more likely you are to start seeing signs of wear and tear that change your smile for the worse. The damage can become severe enough to crack and chip teeth. A special mouth guard you wear at night can protect teeth.
3. TMJ Dysfunction Can Lead To Pain In Your Jaw, Face, Neck, And Head
Sometimes, the pain your dentist addresses may be located in areas other than your teeth and jaw. If you have a hard time during most days because you are dealing with pains in your face, neck, and head, it may be time to talk about TMJ dysfunction with your dentist. This problem can be one reason people suffer from chronic headaches. By starting treatment for this issue, you can put a stop to these frustrating aches and pains that continue to bother you.
Healthy Smiles Family Dentistry Can Help You By Addressing Dental Pain
At Healthy Smiles Family Dentistry, patients in and around Houston, TX are able to come in for quality oral health care services. If you are experiencing worrying dental aches and pains, our practice is ready to help you identify and treat the source of your trouble. We also provide a range of general dental services, including routine dental checkups! To find out more, or to schedule a consultation, call our dental office in Houston, TX, today at (281) 974-4494.