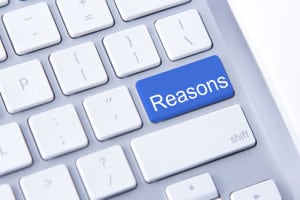 Have you been taking a look at your restorations in the mirror lately, wondering if they are negatively affecting your oral health or if there's simply a way to make them look better? In general, replacing old, tired, or unsightly dental work is the most efficient way toward improving the concern. Curious about common reasons for replacement? We have a few to offer.
Reason #1: They Look Bad
Do your restorations create an eyesore rather than helping your smile function and look beautiful? If you answered, "Yes," we have good news. You don't have to stick with old work, restorations that you simply don't like, or metal restorations that you would prefer were composed of natural-looking material. Switching to something that is functional and esthetically pleasing means you can feel good about your oral health and your beauty.
Reason #2: Your Bite Isn't Balanced
An improperly placed restoration like a dental filling or crown can wreak havoc with your oral health. It throws off your bite, which in turn may result in headaches, damage to nearby teeth, the promotion of bruxism, and the development of TMJ disorder. Replace previous work to prevent long-lasting effects.
Reason #3: They're Old
Are you restorations something that you vaguely remember receiving? If you are wearing an old crown, old bridge, or otherwise, it might be time for a replacement. As restorations wear out, they can become cracked or damaged. Let's take a look at your dental work to see if it's still providing you with the advantages you need or if a replacement may benefit your oral health.