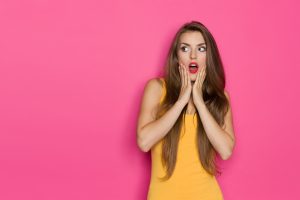 If you grind your teeth while you sleep, you can be less than surprised to wake up feeling pain in your teeth and jaw. You should know that if this habit persists without any intervention, you could one day awaken to dental damage that requires a dental restoration! Your Houston, TX dentist's office can help you manage this habit, known as bruxism, before the damages become consequential. A special appliance meant to stop you from harming your teeth can be custom-made to put an end to this issue. Addressing the matter can also help you avoid problems with TMJ dysfunction, and even chronic headaches! 
Why Do I Keep Grinding My Teeth At Night?
Different problems can cause a person to grind their teeth. It is often associated with TMJ dysfunction – in fact, either condition could be the reason you develop the other. While the causes may vary, you should know that treatment in the form of a bruxism appliance can be effective at keeping your teeth safe. Make sure your dentist knows that you are grinding your teeth – if you wait on the matter until your next exam, or when the pain worsens, you could find yourself with serious dental damage.
Bruxism Could Be The Cause Of Your Chronic Pain
Chronic headaches can be triggered by problems with bruxism and TMJ dysfunction. Your jaw is operated by the trigeminal nerve, which is also responsible for sensations in your face, head, and neck, so a problem affecting your jaw can tax these areas. If you have problems with recurring headaches, you can bring them up with your dentist. During that consultation, you can find out if you need to do something about teeth grinding and TMJ dysfunction, or if a different issue is the source of your problem.
Treating Bruxism, And Any Related Damage Done To Your Teeth
Your dentist is ready to protect you against bruxism, and prevent damage. With that said, you can be assured that restorative dental care is available to you if you need to treat existing harm. In some cases, teeth can be chipped or cracked badly enough to need a dental crown.
Talk To Healthy Smiles Family Dentistry About Addressing Your Teeth Grinding Habit
At Healthy Smiles Family Dentistry in Houston, TX, Dr. Amy Vlachakis (pronounced Vla-ha-kiss) and her team are prepared to help you if you are experiencing problems like bruxism and TMJ dysfunction. In addition to these services, we can provide the kind of routine dental care that helps you maintain your best smile. If you are ready to arrange your consultation, call our dental office in Houston, TX, today at (281) 974-4494. Located in Memorial City Plaza, we proudly welcome patients throughout Houston, Memorial City, Bunker Hill, Hedwig Village, and all surrounding communities.