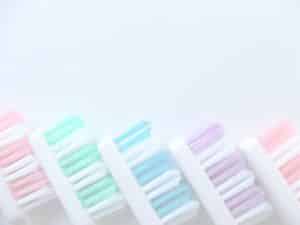 Are toothbrushes inherently good or bad? Not exactly. However, choosing the right brush to keep your smile clean and safe means it's important to select one that will help you check those boxes off of your dental hygiene list. As you can probably agree, taking the time to clean your smile only to find out your toothbrush is working against your oral health is something nobody wants to deal with. Learn more about making smart choices, so you've got the foundation for a healthy mouth.
Does It Measure Up?
If you were to hand your four-year-old your toothbrush, it would be too big for his hand and too big for his mouth. Think about this when you shop for your own toothbrush. Is the brush going to offer you dimensions that will work both for holding the brush during dental hygiene and for maneuvering throughout your smile? If not, your oral health might suffer.
Does It Offer Gentle Care?
This is an often overlooked detail that happens to be one of the most important. Keeping your oral health safe means keeping teeth clean without damaging them. You need to practice gentle care in order to achieve this simple feat. Translation: Only use a toothbrush that has soft bristles. Whether it's an electric brush or a manual brush. Soft bristles will let you get your smile very clean without leading to complications.
What's The ADA Have To Say?
Can you find the ADA (American Dental Association) acceptance seal on the package somewhere? If not, you're taking a gamble on the brush. If so, you know it's going to remove plaque effectively and efficiently, which is just what you want for your oral health.