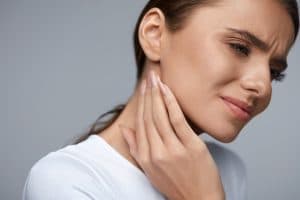 People who struggle with bruxism, an issue with frequent teeth grinding, can find themselves at risk for many different issues. One serious concern is that your teeth can suffer damage when you grind them too often. You could wind up with significant wear on teeth, or even suffer the kind of chip or crack that requires a dental crown. Bruxism can also create issues with TMJ dysfunction, which can have many negative effects for your well-being. Because teeth grinding often happens at night, when you have no way to voluntarily control this action, help from your Houston, TX dentist is important. With a special appliance that you can comfortably wear, you can keep your teeth safe throughout the night.
Treating Bruxism With A Custom-Made Appliance
Your dentist can create a custom-fit oral appliance that allows you to protect your teeth against the effects of frequently clenching your jaw. A mouth guard offers protection for your upper and lower teeth by separating them, so that no damage takes place from grinding. An oral splint can also be used to help with this problem. Your splint will target problems with your jaw alignment, which can be connected to your issues with bruxism.
Understanding Why Untreated Jaw Issues Can Create Problems For Your Well-Being
Your jaw problems can lead to chronic pains, including issues with frequent headaches. When you think something may be wrong with your bite, or if you find yourself dealing with sensitivity in your face, jaw, and teeth, seek our your dentist's care. Treating problems like TMJ dysfunction and bruxism can deliver great benefits to your overall well-being, and improve your quality of life.
Talk To Healthy Smiles Family Dentistry About Addressing Bruxism
At Healthy Smiles Family Dentistry, expert care is available to patients who struggle with issues like bruxism, and TMJ dysfunction. In addition to treating any immediate concerns around teeth grinding, you can count on care that seeks to identify what is wrong, and help you recover from recurring bouts of pain and poor dental function. To learn more, or to schedule a consultation, call our dental office in Houston, TX, today at (281) 974-4494. Located in Memorial City Plaza, we proudly welcome individuals throughout Houston, Memorial City, Bunker Hill, West Beltway, City Center, Hedwig Village, and all surrounding areas.