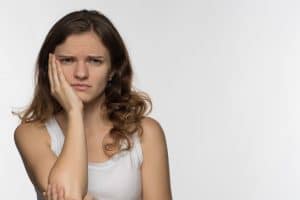 If you have headaches as a regular occurrence, you can be all too ready to root out the probable cause, and do what it takes to put a stop to the matter. After all, continued problems with headaches can affect your work performance, your mood, and your overall quality of life. One issue that should take your attention is the way that jaw troubles can cause headaches to occur. If you are experiencing issues because of TMJ disorder, recurring headaches can be one of many symptoms you suffer. By seeking treatment from your Houston, TX dentist for TMJ disorder, you can put a stop to those frequent, frustrating headaches.
Your Dentist Can Work With You To Provide Relief From Headaches, And Other Pains Connected To Jaw Problems
Problems with TMJ disorder can include headaches, limited jaw function, and pains in your neck, face, and shoulders. These symptoms can all be a consequence of poor jaw alignment. When this problem is not addressed, you can continue to experience pain, and you can develop dental problems due to a habit of grinding your teeth. Fortuantely, TMJ treatment from your dentist can help you recover. While several approaches can be taken, based on your particular needs, many people have seen improvements after receiving a special oral appliance that corrects alignment flaws.
Giving Your Dentist The Opportunity To Look For Signs Of Oral Health Trouble
While your dentist is ready to help when something seems wrong, you should make sure to attend routine dental exams. At every appointment you attend, your dentist is watching out for any symptoms that might suggest you need to undergo care for a problem. Cavities can be caught and treated before they become painful, and those strange aches and pains you experience can be traced back to troubles with your jaw joint alignment.
Talk To Healthy Smiles Family Dentistry About Your Headaches
If you want to do something about painful headaches, talk to Healthy Smiles Family Dentistry. Our practice can work with you to relieve your discomfort, and target possible causes, such as TMJ disorder. To learn more, or to schedule a consultation, call our dental office in Houston, TX, today at (281) 974-4494. Located in Memorial City Plaza, we proudly treat patients throughout the Houston area, Memorial City, Bunker Hill, West Beltway, City Center, Hedwig Village, and all surrounding communities.