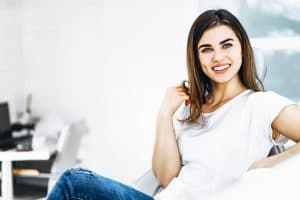 The information you receive during a routine dental exam can provide important details about your overall oral health. One benefit is that you can have a developing cavity identified and treated with a dental filling before the problem worsens. With that said, there are man other issues our Houston, TX dental practice can recognize, and address, when you come in for care. In addition to checking for any evidence of tooth decay, we can recognize problems that point to trouble with TMJ dysfunction, or identify signs that you could benefit from an ultrasonic scaling. By looking out for any problems that might affect you, our practice can help you stay on top of all of your oral health needs.
Are You Attending Regular Dental Exams?
Unless you are told to follow a different schedule, you should attend regular dental exams on a semiannual basis. At every checkup, you receive both a thorough oral health review, and a professional teeth cleaning. The review can include a direct inspection of your teeth, as well as a review with digital x-rays. Your professional cleaning removes harmful plaque and tartar, which can make it easier for you to avoid issues with future oral health issues.
Dental Cleanings Help You Keep Your Smile Safe
A professional dental cleaning is more thorough than the care you provide for yourself at home. Your treatment can see harmful tartar removed – while you can stop tartar from forming, this substance can remain in place if you do not have your teeth professional cleaned. Your hygienist can give you feedback about the cleanliness of your smile, and warn you about areas that are being poorly served, making them more vulnerable to future decay.
Your Dentist Is Looking For More Than Just Tooth Decay During An Exam!
During your evaluation, tooth decay is one of many concerns that can be addressed. If you have struggled with frequent headaches or migraines, you can discuss this during your appointment, and learn more about TruDenta treatment. Arranging TruDenta treatment can lead to an explanation of why you have headaches, as well as non-surgical treatment to address the problem. We can also identify problems with your periodontal health, or recognize signs of teeth grinding. Your oral health can be affected by many different issues. During your routine appointments, your dentist's goal is to make sure that any problem affecting you is recognized, and treated!
Talk To Healthy Smiles Family Dentistry About Scheduling A Dental Exam
At Healthy Smiles Family Dentistry, Houston area residents can look forward to quality care during every routine appointment. If you have questions about our services, or if you would like to set up a visit, call our dental office in Houston, TX, today at (281) 974-4494.