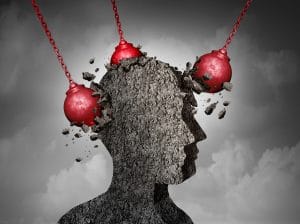 Bruxism, which refers to persistent teeth grinding and jaw clenching, leads to a number of serious complications, such as damaged teeth. In some cases, patients with the disorder also experience headaches. Fortunately, we can help patients in Houston, TX, treat bruxism-related headaches.
Frequently Asked Questions About Bruxism
Question: What causes teeth grinding?
Answer: The disorder occurs for a number of reasons. Often, tooth loss, TMJ disorder, and misalignment are all linked to grinding and clenching. However, the most common cause seems to be stress. Excessive anxiety in your daily life may make the onset of teeth grinding more likely. Part of the treatment process involves identifying the factors behind a patient's teeth grinding.
Question: How do I know if I need treatment?
Answer: Your significant other may tell you grind your teeth. Otherwise, headaches, jaw pain, toothaches, and tooth sensitivity may develop. If you think one or more of these possible symptoms applies to your experience, then let us know. You may need a diagnosis.
Question: What happens without treatment?
Answer: Over time, the constant pressure from teeth grinding may begin to crack or chip the teeth or simply wear away the tooth enamel. You may become susceptible to tooth decay, infection, and tooth loss. Don't let your grinding and clenching lead to avoidable oral health complications, see us today!
Question: How do you treat bruxism?
Answer: We will first examine your smile, taking note of the wear and friction on your smile. We will be able to choose the most appropriate treatment option. Often, an oral appliance helps prevent further damage and repositions the jaw to ease pressure on the joints. We've also employed orthodontics and custom-made dental restorations to help address your grinding episodes. If you have any questions about treating bruxism, or if you worry that you grind your teeth, then give our team a call.
Do You Grind Your Teeth?
We offer patients with teeth grinding issues a solution with custom oral appliances. Schedule your visit with Healthy Smiles Family Dentistry today by calling (281) 974-4494. We serve patients from Houston, Memorial City, Bunker Hill, West Beltway, City Center, Hedwig Village, and all surrounding communities.