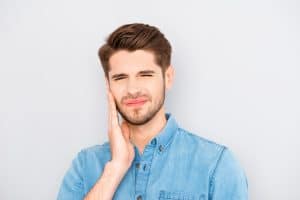 Toothaches can become particularly annoying when you are trying to eat or drink something, but you may feel some level of discomfort throughout your day. You might like to believe that this problem will subside on its own, but you should know that your decision to ignore the matter could leave you vulnerable to serious dental issues. If the problem continues to worsen, you could be dealing with an infected tooth that needs to be treated. If the pain is enough to make you change the way you bite and chew, you could be demanding more of your jaw joints, and your other teeth, than you expect. Your Houston, TX dentist can help you restore your oral health by examining and treating an aching tooth.
"Why Is My Tooth Hurting Like This?"
Your tooth pain could be affecting you because you have an untreated issue with tooth decay. You could also have problems because your tooth is cracked, and exposed to infection by oral bacteria. It should be noted that both of these issues leave your pulp, which houses a tooth's living nerves, to attack. If too much harm occurs, the tooth can reach a point where it cannot be saved.
Toothaches Can Affect Your Dental Function
If you try to respond to a tooth injury by changing the way you bite and chew, you can add new problems to your ongoing oral health woes. Dental enamel is remarkably strong stuff, but you would be wrong to behave as though your teeth are invincible. Too much friction from biting and chewing can change a tooth's shape, and make it more vulnerable to problems. If you try to move your jaw in a way that feels unnatural while biting and chewing, you could put stress on your jaws, and develop problems with TMJ dysfunction. This can lead to chronic pain or sensitivity in your face and neck, as well as chronic headache issues.
Enjoy A Quality Restoration For Your Vulnerable Tooth
When you undergo restorative dental work, your dentist will make protecting your tooth a priority. On top of protecting your tooth, a modern dental crown can have a positive effect on your smile once it is placed. Porcelain and zirconia crowns are able to imitate enamel, and they can even reflect light in the same way a natural tooth would!
Healthy Smiles Family Dentistry Can Address Your Toothache
A persistent toothache is not something you should ignore. If you are dealing with pain or sensitivity in a tooth, Healthy Smiles Family Dentistry can help you by identifying the reason for your troubles, and providing the appropriate care. To learn more, or to plan your consultation, call our dental office in Houston, TX, today at (281) 974-4494.