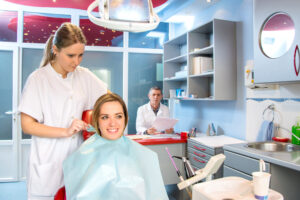 Treating dental problems effectively means more than just stopping a cavity's growth. After the immediate threat of decay is resolved, your tooth will need protection in response to the irreversible damage that has taken place. At our Houston, TX dental practice, we can use both dental fillings and dental crowns in treatment. When it is necessary to place a crown, we can provide one that will carefully match the appearance of the tooth in need of protection. In addition to providing a restoration that is strong enough to keep your tooth safe, we can provide one that effectively matches the appearance of the one being restored. This helps to preserve your smile, which means you will not have to worry about a restorative treatment permanently altering the way you look.
Do I Need A Dental Filling Or A Dental Crown To Treat My Tooth?
We can determine what kind of support your tooth needs when we evaluate its condition and the impact of your cavity. Unfortunately, while a dental filling is the most conservative treatment option for decay, it is not always the one that we can recommend. This is because the damage can ultimately be too severe, which means you need something larger to provide support. With a dental crown, we can provide that protection as well as cosmetic coverage, which means you can still bite, chew, and smile without concern!
Receiving A Crown That Imitates Your Healthy Enamel
There are different options for smile care when patients need dental crowns. With porcelain and zirconia restorations, we can actually imitate healthy enamel and provide functional support at the same time. This can be welcome news when you need to do something about problems with front teeth. There are options such as metal and porcelain-fused-to-metal crowns as well, which can provide important protection when your back teeth have to be treated.
Scheduling Appointments That Keep You Informed About Your Oral Health
There are several actions that you can and should take in order to protect your smile from harm. With your regular dental exams and cleanings, you can avoid problems with advanced cavities. This is because your dentist can point out a problem during a routine review, which can lead to treatment with a dental filling while that problem is still relatively minor.
Talk To Your Houston, TX Dentist About Treatment With A Dental Crown!
Through the use of dental crowns, we can make sure that vulnerable teeth stay safe and healthy when there are problems that are too serious for dental fillings. These restorations can offer cosmetic as well as functional support. To find out more about how we can take care of you when there is a problem with your oral health, contact your Houston, TX, dentist, Dr. Vlachakis, by calling 281-974-4494.