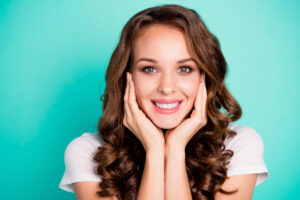 Your smile flaws can feel like the first feature of yours that people fixate on. They can also seem to draw your attention when you look at your teeth in the mirror or in pictures. Do you have to simply accept that these issues will always be present to affect how you look and how you feel about your smile? At our Houston, TX dentist's office, we can provide different services that help you take on problems with the way you look. One option is to cap teeth with porcelain veneers. In doing so, we can address many concerns at one time, leading to significant changes in a short time. Discoloration, dental damage, problems with spacing, and more can be addressed in as little as two appointments!
Is There Room For Improvement In Your Current Smile?
Does your smile leave room for improvement? When you are confident in the appearance and health of your teeth, you can appreciate how much attention your smile attracts. However, because this is a feature people often focus on, any flaws that affect it can seem to stand out. Problems with spacing, dental damage, discoloration, and more can become undesirable focal points that you would like to address. Whether one of these issues affects you or several, we can use porcelain veneers to help you make remarkable changes to the way you look!
We Can Offer Meaningful Results With Porcelain Veneers!
With porcelain veneers, we are able to take on problems with your appearance that have taken away your confidence. These thin restorations are placed over your enamel after minimal preparatory work to make room for them. To make sure they are the right shapes and sizes to provide the right improvements, we will carefully measure teeth during an initial appointment. The bonding process for these restorations is permanent, which means you can enjoy the change in your smile long after your procedure is concluded.
Using Other Cosmetic Services To Make Smile Improvements
Through different cosmetic dental services, we are able to take on problems with patients' smiles. We can resolve problems through professional teeth whitening treatments that deal with embarrassing discoloration caused by teeth stains. We can also look at whether you have teeth that would benefit more from the placement of dental crowns. Crowns that are able to match your healthy enamel can offer functional and cosmetic advantages.
Talk To Your Houston, TX Dentist About Treatment With Veneers!
Through treatment with porcelain veneers, there are remarkable changes that we can make to your smile. We are happy to discuss treatemnt with these restorations or any other service that we provide. For more information, please contact your Houston, TX, dentist, Dr. Vlachakis, by calling 281-974-4494.