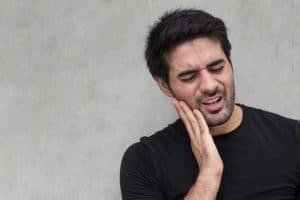 How harmful can a toothache really be? The discomfort concentrated around the tooth itself can be worrying enough for many people to seek dental care. Unfortunately, people sometimes hope that they can minimize discomfort simply by changing the way they bite and chew food. While you may feel slightly more comfortable because you avoid placing pressure on a vulnerable tooth, you may be creating new problems. Over time, an awkward bite can lead to TMJ dysfunction, which can cause problems with facial pain, and headaches. Your Houston, TX dentist can work with you to restore your tooth, and address any lingering issues with TMJ dysfunction.
Problems That Affect Your Bite Function Can Lead To Frustrating Consequences
When you ignore a problem by changing your bite function, you can create new issues, and experience more discomfort. You can consistently cause pain in your jaw joints, and tax the muscles, leading to problems with TMJ dysfunction. That can leave you with issues like habitual teeth grinding, painful jaw movement, and frustrating headaches.
Taking Care Of A Persistent Toothache
Your tooth may be aching because you are experiencing problems with advanced decay, or an untreated injury. Problems of this nature may point to an internal infection that needs to be addressed with a root canal procedure. Your dentist can review the tooth, and see if this is necessary. Once the appropriate care is provided, a restoration can make sure your tooth is supported. You can be happy to find out how a modern dental crown can provide the protection you need, and preserve your appearance.
Your Dentist Can Help You Manage Persistent TMJ Problems
If you have persistent issues with TMJ dysfunction, bring the matter to your dentist's attention. You can receive the appropriate care to help you feel comfortable again. That care may involve a special oral appliance, which can reduce pressure on your jaw. Your dentist can also offer detailed work to help relieve persistent headaches.
Healthy Smiles Family Dentistry Can Help You Address Oral Health Issues That Affect Your Life
Healthy Smiles Family Dentistry is prepared to help you deal with a problem tooth, and with problems that impact the way you bite, chew, and speak. If you think you might need to address TMJ dysfunction, or if you want to deal with a toothache before you start to suffer from frustrating complications, know that we are here to help. Our practice is proud to serve the Houston, TX community, and surrounding areas. To learn more, or to schedule a consultation, call our dental office in Houston, TX, today at (281) 974-4494.