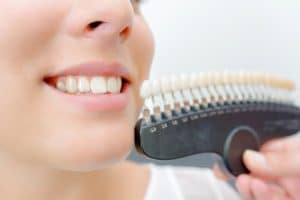 If you have a single esthetic concern, such as discoloration or maybe one chipped tooth, then you may need teeth whitening or dental bonding. But if you have several esthetic issues with the shape, alignment, and appearance of your smile, then you may need a complete makeover! In today's blog, your Houston, TX, dentist will transform your smile with a complete makeover.
Creating Your Custom Treatment Plan
First, we want to take a look at your smile. Using digital technology, we will perform a thorough diagnosis to not only assess the severity of your esthetic issues, but to identify the causes too. We will then talk to you about your smile goals and what issues you would like to see addressed. Our team will next create a treatment plan that improves smile beauty, and also addresses restorative issues as well.
Teeth Whitening
For teeth stains, we have both in-office and at-home teeth whitening to remove discoloration. Our in-office option uses a special bleaching gel and a light to break up and remove stains in one visit. Our at-home option involves using special trays filled with gel to address more substantial discoloration in a week to ten days.
Repair with Bonding and Contouring
If you have misshapen, pointed, chipped, or permanently discolored teeth, we can help in one visit with bonding and contouring. Bonding involves using the same composite resin we employ in our fillings to restore damaged or missing structure in one visit. Contouring involves gently sanding and buffing the tooth to dull sharp teeth and address rough patches or pits/grooves in the surface. Both can be completed in a single visit!
Treating Decay and Infection
If you have a cavity, then we can provide a composite resin filling to address the decay in one visit. If a tooth has become infected, a root canal allows us to access and remove the infected tissues, and then a lifelike crown is placed to protect the tooth and ensure a natural appearance. Even when addressing serious restorative issues, we take a cosmetic approach as part of your makeover!
Porcelain Veneers
A major component of any makeover are our porcelain veneers. These thin restorations are placed onto the front-facing sides of the teeth and instantly change the shape and color. We even use them to correct the appearance of minor misalignment! Placement only takes two visits, and they address everything from stains and minor damage to gaps between the teeth.
Our Houston, TX Dentist's Office Provides Cosmetic Dentistry
At our Houston, TX dentist's office, we want to help transform your smile with an array of lifelike cosmetic treatment options. Find out more about our smile makeovers by calling Healthy Smiles Family Dentistry at (281) 974-4494.